ONLINE CLASS AND EVENT REGISTRATION SOLUTIONS
Any school that registers students for sports, academic programs, drivers education, summer camps or other events can benefit from pickAtime's online program registration solution. With our payment integration with MySchoolBucks and Paypal your families can register online and also easily pay for any program or activity online.
Schedule a call to view a demo
and discuss options for your
school or organization
Benefits
Easy to setup and simple to use
Give your families 24/7 access to the scheduler
Send email reminders prior to event start date
Create personalized and customized registration forms
Accept payments from families upon booking
SCHEDULING SOLUTIONS FOR EDUCATION

Sports Registration ∑ School Tours ∑ Admission Events ∑ Summer Class Registration ∑ Career Fair ∑ Parent University ∑ Summer Camps ∑ Senior Blitz ∑ Driverís Education Registration ∑ Evening Workshops ∑ iPad Checkout ∑ Uniform Fittings ∑ Senior Portraits ∑ Kindergarten Registration ∑ Parent Surveys ∑ Volunteer Scheduling ∑ School Shadow Days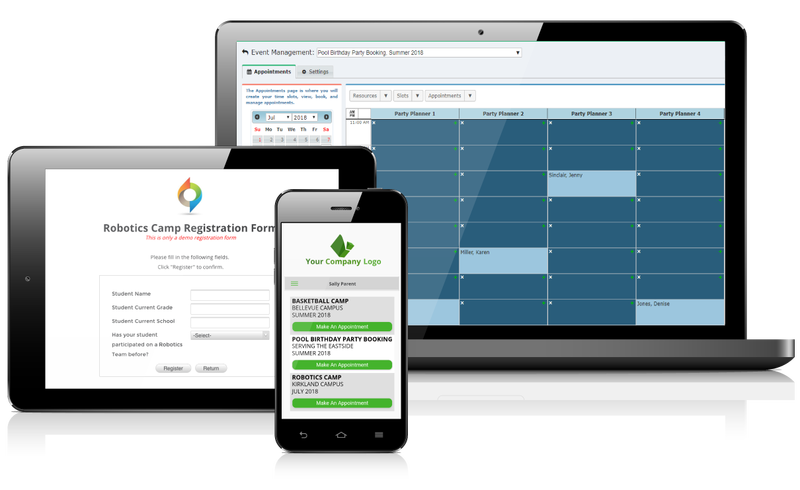 Save countless hours of administrative work
Eliminate the hassle of pen and paper scheduling
Use our powerful administrative software to set up your scheduler
Schedule a call with one of our support staff to view a demo and discuss options for your school or organization.
Class / Camp Demos
Try the following demos to experience the way a parent can easily book events using pickAtime.
These demos are just examples of the powerful features that you can use for camp and class scheduling; your organization can easily create a significantly different setup to meet your unique needs.
Sports Registration
This is a demo for registration for School Sports
View Demo
Summer Camp
This is a demo for registration for Summer Camps
View Demo
Sign up for Drivers Ed Classes
This is a demo to scheduling a Drivers Ed Class
View Demo
Full feature list - CLASS / CAMP

Front End
Available 24/7 on desktop, tablet, and mobile. Include your school or organization name and logo. Customization of front-end messaging. Personalized and customized registration forms. Accept credit card payments online.

Account Setup
Powerful Administrative tool to setup event registration. Numerous event customization options available. Ability to set when event registration opens and closes.

Event Management
Single or Multiple event booking. Several options for display of classes/camps. Booking can be automatically synced to most major desktop, mobile and cloud based calendaring solutions, including Outlook, Google, and iCal.

Messaging
Fully customizable email and SMS messages. Confirmation, Reminder, Custom and Follow-up Email options. Text reminder option.

Reporting
Multiple reporting options, providing details on registration activity. Reports can be exported, printed, or emaild. Scheduled report delivery options.

Family Management
Manage family information. View full family history and upcoming class/event registrations. Request and report on any additional information prompted of families when registering and/or booking. Collect waivers and documents.

Administrative Management
Multiple user access levels available. Limited access can be set for specific email addresses. Report viewing access only is available. Appointment making access only is available. Full administrative power is available.

Security
PickAtime is hosted on dedicated servers in a locked and secure data center. Secure Socket Layer (SSL) technology is used to encrypt the data for transmission. All information collected by pickAtime is made available only to the client that the customer is making an appointment with.

Try pickAtime's Setup Services. We handle the setup of your scheduler. We create the account, including the setup of your available time slots. Our Setup Services include the customization of the front-end of your scheduler, as well as your email confirmations, reminders and any additional messaging you would like on the site. Email us at info@pickatime.com for more details. Free for first time clients.