ONLINE SCHEDULING MADE EASY
A smarter way to manage
Save countless hours of administrative work
Eliminate the hassle of pen and paper scheduling
Use our powerful administrative software to set up your scheduler

Schedule a call with one of our support staff to view a demo and discuss options for your school or organization.

Schedule A Call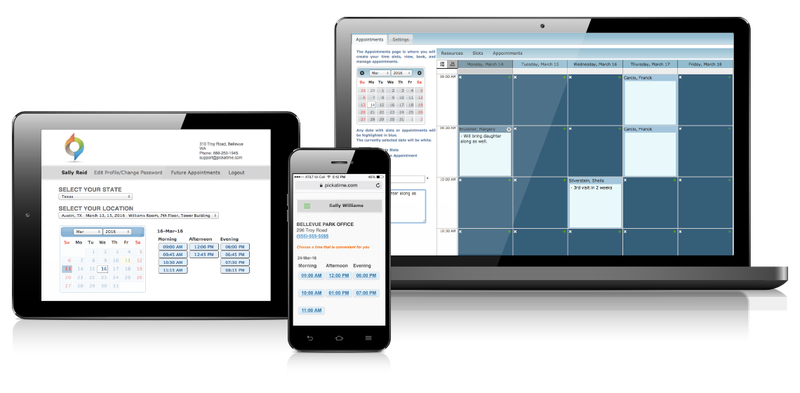 Front End
Available 24/7 on desktop, tablet, and mobile. Include your school or organization name and logo. Customization of front-end messaging.

Account Setup
Powerful Administrative tool to setup scheduler. Numerous appointment customization options available. Group or individual appointment options.

Appointment Management
Ability to stagger appointment booking. Ability to automatically open up new slots when days, times fill up. Appointments can be automatically synced to most major desktop, mobile, and cloud-based calendaring solutions, including Outlook, Google, and iCal.

Customer Management
Manage customer information. View full customer history and upcoming appointments. Request and View any additional information requested of customer when registering and/or booking.

Messaging
Fully customizable email and SMS Messages. Confirmation, Reminder, Custom and Follow-up Email Options.

Reporting
Multiple reporting options, providing details on booking activity. Reports can be exported, printed, or emailed. Scheduled report delivery options.
Administrative Management
Multiple Administrative Access Levels allowed.

Security
All data transmission is SSL encrypted. State-of-the-art computer servers are protected by biometric access protocols and 24-hour surveillance.
+ Who are pickAtime's Customers?
Schools and businesses primarily across the United States and Canada.
+ What types of businesses use pickAtime?
Any business that accepts appointments can benefit from pickAtime's online scheduler. In addition, we offer two products specifically designed for parent teacher conference scheduling. Examples of businesses using pickAtime are flu shot providers, health and wellness organizations, automobile repair shops, doctors offices, massage therapists, soccer clubs, therapist offices, and rehabilitation offices, to name a few.
+ How long have you been in business?
PickAtime has been in business 16 years. Our online scheduler was designed in 2000 and we accepted our first customer in 2001.
+ Can pickAtime handle multiple appointments for the same time?
Yes, our scheduler is ideally suited for customers to register for training or events. You specify the maximum size for your event or training. When the maximum capacity is reached the scheduler will no longer accept appointments. Our reporting module provides you with information on the percentage of capacity reached, so you can monitor registration on an ongoing basis.
+ Will my customers receive email confirmations and reminders?
Yes, pickAtime allows you to set email confirmations and multiple email reminders. You can also optionally allow your customers to add the appointment to an online calendar. Service providers can also optionally receive email appointment notifications.
+ Can I add in appointments for customers who do not have internet access?
Yes, you can use our Administrative tool to add in appointments for clients over the phone or in person.
+ Do you host the Online Scheduler?
PickAtime hosts the online scheduler for you, there is no software for you to buy or install, and no servers to maintain.
+ Is my Data Secure?
Yes, all data is stored offsite in a state of the art data center. Biometric protocols are required for access.
HEAR WHAT OUR CUSTOMERS SAY

"PickATime is simply by far the easiest, most affordable, and always reliable system for scheduling events. We use the system for parentsí conferences. Our school sends a set-up file to pickAtime; they send us a link, which in turn we publish in our Parents portal. Once published, parents quickly log in and we have 85% of the schedule completed in 10 minutes. No hassles, no problems.

Recommend pickAtime for your school."

- Andrew Speyer
Director of IT at Choate Rosemary Hall
---

"Shore Country Day School will celebrate 10 years of pickAtime next year! We first implemented pickAtime for Shore's Parent Conferences in the Winter of 2007. At that time, online signups were a big change for our school. No longer did we post sign-up sheets requiring parents to come into school and compete elbow to elbow for their desired slots! Now, when we open each conference event, parents access the authenticated pickAtime link through our website and we typically see almost half our conference slots fill up within the first hour...all behind the scenes! Parents love being able to schedule appointments from work or when on the go using their smartphone or tablet. Managing optional conference childcare sign-ups and changes to appointments provide even more conveniences for parents as well as streamlining the administrative processes for our staff. Our faculty also rely on easy access to their schedules as they plan for conferences. We have always found pickAtime Support to be exceptionally responsive for any set-up questions or issues. Once a year, when we host a whole school event that requires volunteer sign-up, there is never a charge for this service which we truly appreciate."
- Susan Morgan
Director of Technology at Shore Country Day School
---

"We LOVE pick-a-time!

Being a small school requires our teachers to wear many hats, and do varied tasks which is why we were thrilled to discover how convenient and easy to use Pick-a-Time really is. The service has simplified our onerous scheduling challenges and put our families in the driver's seat, allowing them the freedom to choose times that work best for them. Lastly, it is wonderfully cost effective - saving us time and frustration."

- Carolyne Cybulski
Principal / Teacher / Literacy Clinician