Higher Education Online Scheduling
Higher Education Online Scheduling
PickAtime's Higher Education scheduling software allows colleges and universities to easily take appointments for admission interviews, information sessions, college tours, counseling appointments, office hours, and more...
Easy to setup and simple to use, here's how it works:
Administrator sets up event schedule with dates and times
Students / Prospective Students / Faculty log in and select a convenient appointment time
Use pickAtime for all your higher education scheduling needs. Some examples include:
Campus Tours and Visits
Admissions Interviews
Financial Aid Appointments
Placement Testing Exam Registration
Freshman Major Selection Counseling
Fitness Center Orientation
Counseling Appointments
Mentoring Appointments
Office Hour Appointments
Resume and Cover Letter Reviews
Room Scheduling
Benefits
Eliminates Pen and Paper Scheduling
Reduces back and forth phone call messaging
Give your students and faculty 24/7 access to the scheduler
Reduce no-shows with Appointment Calendar Notifications for both students and faculty
Sign up now
- You will not be invoiced until after your first event and if for any reason you are not satisfied and do not want to use the system again, there is no obligation to pay.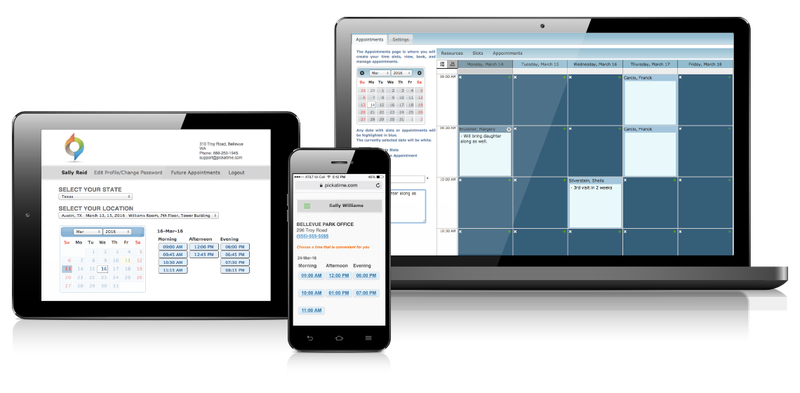 Save countless hours of administrative work
Eliminate the hassle of pen and paper scheduling
Use our powerful administrative software to set up your scheduler
Schedule a call with one of our support staff to view a demo and discuss options for your school or organization.
Schedule A Demo
Higher Education Scheduling Demos
Higher Education Scheduling Demos
Try the following demos to experience the way a student, a prospective student, or faculty member can easily make appointments using pickAtime.
Admissions Office Online Scheduler
This is a demo for an Admissions Online Scheduler.
View Demo
Faculty Online Scheduler
This is a demo for a Faculty Appointments Online Scheduler.
View Demo
Freshman Orientation Online Scheduler
This is a demo for a Freshman Orientation Online Scheduling.
View Demo
Full feature list - Higher Education
Full feature list - Higher Education
Download or print our features summary for reference.
Front End
Optimized for mobile
Customizable login page. Add custom text, custom logo, links to consent forms, etc.
Use scheduling site as stand-alone or as link from College or University website
Available slots can be displayed in a table, text, date, or list format
Provides students/prospective students with printable appointment schedule
Allows students/prospective students to cancel/reschedule appointment
Allows students to edit their contact information and change their password
Allows students to receive Outlook or Google calendar invitations they can add to their online calendar
24/7 access for online scheduling
Will not display other scheduled appointments to students
Provides ability to collect student and/or appointment specific information upon registration or appointment scheduling
Accept credit card payments online
Account Setup
Printable Online Manager guide
24/5 M-F email support
Ability to control when the scheduler is open and closed to students
Ability to control how far in advance students can book tours, counseling, office hours, etc...
Ability to control how much time prior to an appointment an appointment can be cancelled
Total number of appointments per student can be limited
Total number of appointments by appointment type can be limited
Frequency of appointment scheduling by student can be limited
Ability to restrict scheduling access by student ID or other key field
Supports multiple time zones
Supports 24 hour clock
Supports European date format (i.e. dd/mm/yyyy)
Appointment Management
Slot length can be variable
Ability to have single or multiple appointments per time slot
Supports both one time and periodic appointment scheduling
Appointment schedule can be displayed before or after login
Ability to search appointments by student or by date
Outlook calendar appointment can be made for appointment provider
Supports range of service/appointment types
Ability to limit number of appointments per resource / per day. Display your entire day of availability but only allow a fixed number of appointments to be booked.
Ability to display rolling number of appointment slots per day, to allow you to fill up early morning slots first
Messaging
Confirmation emails
Cancellation emails
Reminder emails can be set by student and/or set by the University or College
Multiple reminder emails at specified length of times prior to appointment can be set
Email template for all emails can be customized, links to supporting documents, images can be added
Follow-up and Custom email options available
Text reminder option
Reporting
Provides access to real-time reports
Excel export option available on reports
Reports can be run for a specific date range
Reports can be generated by provider, by location, by event
Slot report available displaying all available time slots -- can be used to schedule walk-in appointments such as tours and counseling
Summary report on % of slots filled per location
Optional email notification when % of slots exceeds an Administrative specified number
Student Management
Provides online searchable student database
User defined student information can be collected
Maintains student appointment history, including appointments scheduled and cancelled
Maintains student log including record of all emails sent
Administrative Management
Multiple user access levels available
Limited access can be set for specific email addresses
Report viewing access only is available
Appointment making access only is available
Full administrative power is available
Security
PickAtime is hosted on dedicated servers in a locked and secure data center.
Secure Socket Layer (SSL) technology is used to encrypt the data for transmission.
All information collected by pickAtime is made available only to the college or university that the school is making an appointment with.
Pricing
Cost - single or multiple day events
An event costs $0.30 per appointment. An event can include many days but each is a single location.
Cost - periodic
A periodic style appointment book, where you have a template of slots that repeat each week, costs $25 per month, which includes two scheduling resources. Each additional resource costs $5 per month extra.

Try pickAtime's Setup Services. We handle the setup of your scheduler. We create the account, including the setup of your available time slots. Our Setup Services include the customization of the front-end of your scheduler, as well as your email confirmations, reminders and any additional messaging you would like on the site. Email us at info@pickatime.com for more details.