ONLINE SCHOOL FORMS
Online School Forms
Any K-12 school can benefit from pickAtime's online forms solution. With pickAtime's online smart form builder your school can:
Save administrative and parent time by using an online system
Eliminate paper registration forms
Easily create and manage online forms for your parents
Save time and reduce errors with an online system
Collect basic or detailed (extensive) information from families
Collect parent info, student info, health forms, permission slips and much more
Create custom forms with text boxes, multiple choice checkboxes, drop-downs and smart logic
SSL encryption and industry leading data security
Free "Get Started" consultation
Easy to setup and simple to use, here's how it works:
Administrators use pickAtime's online form builder to set up custom school forms
Parents login at their convenience via desktop or mobile to fill out forms quickly and securely and upload documents
Digitize all your school forms. Some examples include:
Online Registration
Enrollment Forms
Student Information Forms
Field Trip Permissions
Athletic Forms
Emergency contact forms
Acceptable use policy
Any other forms throughout the year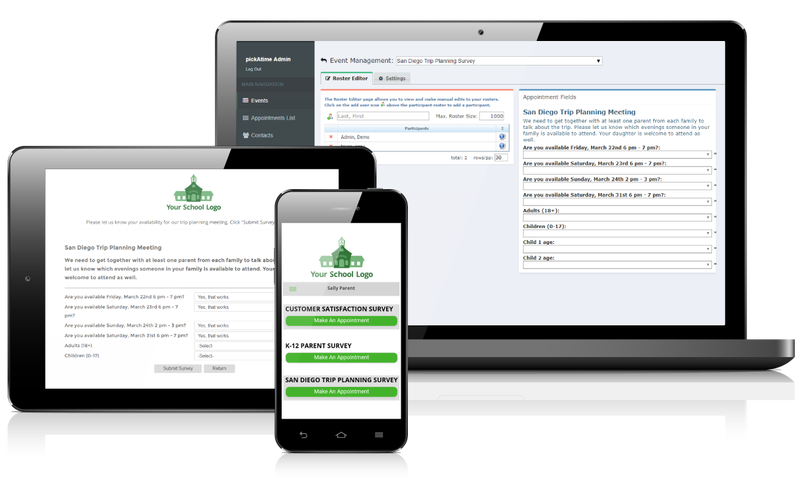 Save countless hours of administrative work
Eliminate the hassle of pen and paper scheduling
Schedule a call with one of our support staff to view a demo and discuss options for your school or organization.
Schedule A Demo
Online School Forms Demos
Online School Forms Demos
Try the following demos to experience the way a parent can easily fill our your school forms online using pickAtime.
These demos are just examples of the powerful features that you can use for online form creation; your school can easily create a significantly different setup to meet your unique needs.
Open Enrollment School Registration
This is a demo to register for school
View Demo
Parent Survey for Sports Travel
This is a demo of a survey for parents
View Demo

Try pickAtime's Setup Services. We handle the setup of your scheduler. We create the account, including the setup of your available time slots. Our Setup Services include the customization of the front-end of your scheduler, as well as your email confirmations, reminders and any additional messaging you would like on the site. Email us at info@pickatime.com for more details.